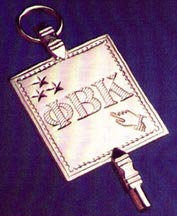 GREENVILLE, S.C.—Fifty-three Furman University students were elected this spring to the school's chapter of Phi Beta Kappa, the nation's oldest and most prestigious academic society.
Founded in 1776 during the American Revolution, Phi Beta Kappa celebrates and advocates excellence in the liberal arts and sciences. Its campus chapters induct the most outstanding students at America's leading colleges and universities, and only about 10 percent of the nation's institutions of higher education have Phi Beta Kappa chapters.
Here are the newest members from the class of 2013:
Susanna Gaddy Lee Alexander – Mathematics
Brent Wallace Anderson – Biology and History
Ahlam Michelle Armaly – Chemistry
Elizabeth Jane Bleed – Mathematics
Margaret Drew Bongiovanni – Art History
Anna Marie Bower – Philosophy (Women's, Gender, and Sexuality Studies )
Chelsea Patterson Brewer – Sociology and Classics
Matthew Edward Brown – Economics and Political Science
Emma Joanne Byland – Health Sciences
Hsiao-Wen Cheng – English
Adam Christian Collins – Cello Performance
Samantha Rose Condon – Spanish (Latin American Studies, Health Sciences)
James Buren Crockett – Health Sciences
Taylor Nicole Davidson – English (Women's, Gender, and Sexuality Studies)
Ahmad Rami Dbouk – Philosophy and Biochemistry
Maranda Marie DeBusk – Theatre Arts
Serena Jinju Doose – Asian Studies and Earth and Environmental Sciences
Tyler Steven Droll – Information Technology
Cameron Lenore Egan – Economics
Jacquelyn Taylor Gilbert – Chemistry
Anne Elizabeth Goodgame – French and History
Mark Odell Helms – Church Music
Laura Gayle Hinson – Sociology
Mary Katherine Hornack – Biology
Julie Kathleen Jarriel – English (Secondary Education)
Sarah Ellen Johnson – Asian Studies (ESOL)
Kristen Elizabeth Kailer – Business Administration
Adam Douglas Lalor – Economics and History
Aaron Douglass Markham – Mathematics
Amanda Marie Michalski – Political Science and German Studies
Brian Carl Lodovico Neumann – History
Julia Celeste Peay – Neuroscience
Elise Annette Prete – Mathematics
Nathan Kent Reeves – Vocal Performance
Hillary Denise  Rodgers – Chemistry
Benjamin Robert Saul – Political Science (Poverty Studies)
Kirsten Alyssa Scheil – Psychology
Mary Grace Short – Economics
Hannah Marie Smith – Psychology
Jennifer Leigh Summers – French and Biology
John Stephen Tagert – Political Science
Zachary Siegfried Treu – English and Communication Studies
Kyle B. Vinson – Psychology
Kaleigh Victoria Ward – Sociology (Women's, Gender, and Sexuality Studies)
Emily Elizabeth Wirzba – Philosophy, Political Science (Poverty Studies)
Karen Naomi Woods – Health Sciences
From the class of 2014:
Rachel Helen Alison – History and Spanish
Catherine Grace Burton – Chemistry
Christina Dorismond – Chemistry
Seth Michael Greenstein – Computer Science
Horace Rhodes Hambrick – Biochemistry
Charlotta Amelia Holt – Political Science, History, Chinese Studies (Poverty Studies)
Stella Coker Watson – Mathematics
Last updated .