DECEMBER 2, 2012
by Erikah Haavie, Contributing Writer
GREENVILLE, S.C.—"Los Caprichos," a series of etchings by renowned Spanish artist Francisco de Goya, will be on exhibit Nov. 1-Dec. 21 in the Thomas Roe Art Building at Furman University.  The exhibit marks the first time Furman's entire collection of Los Caprichos etchings has been on display.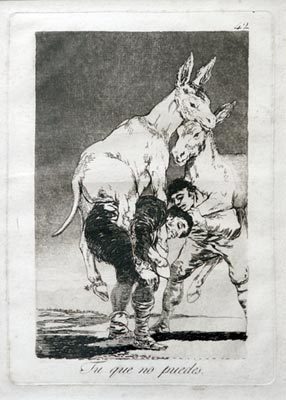 "Los Caprichos is widely recognized as Goya's most important series of prints, particularly for its poignant social and political commentary," said Elizabeth Hamlett, Furman's university collections manager.
The exhibit, sponsored by the Art Department and the Furman University Decorative Fine Arts Committee, is free and open to the public. Gallery hours are 9 a.m.-5 p.m. Monday through Friday.
Goya (1746-1828) was a court painter to the Spanish Crown and a chronicler of history. The satirical "Los Caprichos," created between 1793 and 1798 and published in 1799, depict what Goya described as "the innumerable foibles and follies to be found in any civilized society, and from the common prejudices and deceitful practices which custom, ignorance, or self-interest have made usual."
"Los Caprichos," essentially a book with a moral message, focuses on four main themes: satirical comment on poor education and ignorance; condemnation of society's traditional vices; deceit in relationships between men and women; and protest against abuses of power, according to the Prado Museum in Madrid.  The Prado is hosting "Goya's Drawings Restored" through January 20, a selection of 14 preparatory drawings in red chalk which Goya created for the Los Caprichos series.
Furman has 27 of the 80 "Los Caprichos" prints in its collection. A selection of those etchings went on display in September 1996, after they were first given to the university by the late George and Gerda McCahan.  Dr. Gerda McCahan, who served as a psychology professor at Furman for 28 years, was given the prints by her father who collected the various editions of prints during his trips to Europe.
Some have called Goya the father of modern art because of his bold, innovative technique and darkly satiric outlook that emerged after a serious illness in the 1790s left him deaf.
"His subject matter, technique and composition influenced Impressionist and Post-Impressionists such as Manet and Toulouse-Lautrec, and his tormented works led to the tortured paintings of the German Expressionists and even many of the current Neo-Expressionists and Post Modernists," Olof Sorensen, Professor of Art Emeritus, wrote in a Furman magazine article describing the "Los Caprichos" series.
"Furman is proud to have as part of its collection these works, which link us to our European past yet remain a source of artistic inspiration in our own day," Sorensen said.
For more information about the exhibit, call 864-294-2074.
About the series:
The "Los Caprichos" series may correctly be labeled as prints, etchings, aquatints or intaglios. A print is any graphic process that allows the artist to multiples from a plate of some sort – in the case of "Los Caprichos," a sheet of copper. An intaglio is any print process that depends on a press to push dampened paper into inked grooves or indentations of a plate. An etching is a form of intaglio print in which the ink is rubbed into lines (either incised or eaten by acid into a copper or zinc plate), and the paper then pressed into those lines to receive the ink. Aquatint is the process of pitting areas of the plate in varying degrees to achieve tonal effects ranging from very pale gray to black. Because the print is pulled from a plate made by the artist and limited in number, each print is considered an original, as opposed to mechanical reproductions which are just that – reproductions – even if signed by the artist.   – R. Olof Sorensen
Last updated .