OCTOBER 22, 2012
by Kylee Perez, Contributing Writer
Four months ago, four Furman students set out to build a robot in the hopes of winning the Atmel robotics competition in Queens, N.Y.
There was only one problem. They had no idea how to build a robot.
"None of us were afraid by the fact we had no knowledge or experience," said Eva Kostadinova '14 (Plovdiv, Bulgaria).
So the Furman Physics Robotics Team was born. John Conrad, visiting professor of physics, mentored the group as part of the department's Science, Technology, Engineering, and Mathematics (STEM) Initiative to attract students to those fields. The robotics team worked with Conrad to build and pre-program a robot  to complete a task. Their robot, which is named Aldo after author Aldous Huxley, had to follow a track, pick up a ball, decide whether it was a ping pong ball or a golf ball, and deposit it in the appropriate basket.
Sounds simple, right? Did we mention they also had to teach themselves everything they needed to know about robotics, project management, the tools they needed, and how to build a robot?
There was one more glitch. Two of the students were out of the country when the contest began, so they only had one month to work together.
After countless late nights spent learning about teamwork and robotics, the group was ready to take Aldo on the most exciting trip of his short lifetime.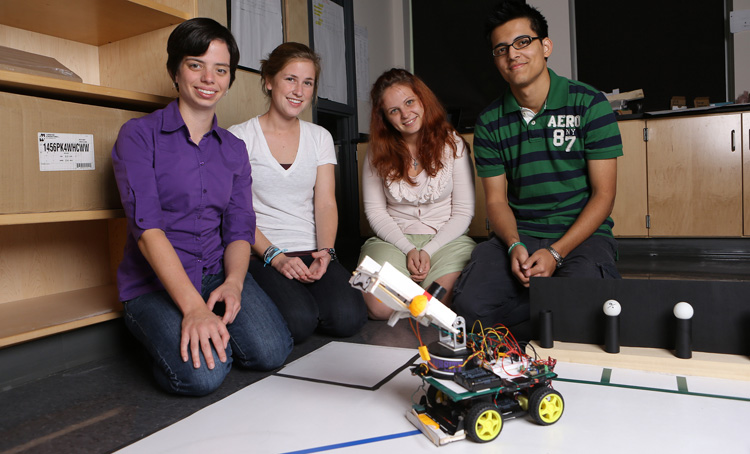 The morning of their trip, the group arrived at Greenville Spartanburg International airport with a letter from the dean explaining that Aldo posed no threat to national security. Aldo made it through security and the students were on their way to New York CIty.
But during the plane ride the group had one thing on their minds. Their robot still didn't work.
"It was pretty scary," said Andrea Fant '14 (Fort Lauderdale, Fla.).
Aldo uses LED sensors to navigate the course, but because the weather was intermittently cloudy and sunny, the sensors were not working.
So the group stayed up until 3 a.m. working, knowing they'd have to be up for the competition by 7 a.m. They impressed the judges with their ability to work together to solve their problems, a skill that is valuable for engineers.
"Teamwork and how to be the most efficient is the most important thing I learned," said Haris Khan '14. The Islamabad, Pakistan native is now considering a career in engineering.
With their problems solved and their robot working, the competition began. The team didn't want encounter further complications with Aldo, so they were brought an unopened package of pre-charged, rechargeable batteries to put in Aldo before the competition.
But the batteries didn't work. And without the batteries, Aldo wouldn't work properly either.
In the spirit of academic collaboration, another competitor loaned the group some fully charged batteries.
"We gave tools to other teams and they gave us advice," Kostadinova said. "It was a spirit of sharing knowledge."
After the competition was over, the team that started out with no idea how to build a robot waited in anticipation for the final results.
Furman Robotics Team.
Second place.
"We started from scratch with no relevant background and we came in second," Khan said. "That's a big deal."
The team would go home with the second place title and prize: four new Android tablets.
After talking with the other contestants, the team realized the amount of support they received from their school was unusual. Without it clinching the second place spot would have been more difficult.
"We realized how important it is for your school to support your project," Kostadinova said."Our school drove us to the airport, bought our supplies, texted, called, and made a blog about our project. We didn't have to think about costs or logistics, just the project."
The students hope to expand the robotics team into a campus-wide club. For the physics department, the project has been a big success for their STEM Initiative.
"They were up against teams that have years and years of robotic clubs experience and degree programs in robotics," Conrad said. "They had never seen a robot before. It's really remarkable what kids from a small liberals arts school like Furman can do against a school of engineers."
Last updated .